Los Angeles has some of the most beautiful and expensive homes in the world. Real estate prices may not be as exorbitant as some other cities like New York City and San Fransisco in terms of price per square feet, but the sheer size of these homes in Los Angeles make them the most expensive homes in the country. Just how expensive? All of them are asking over $100 million!
1 . 'CHARTWELL' - $245,000,000
875 Nimes Road, Los Angeles, CA 90077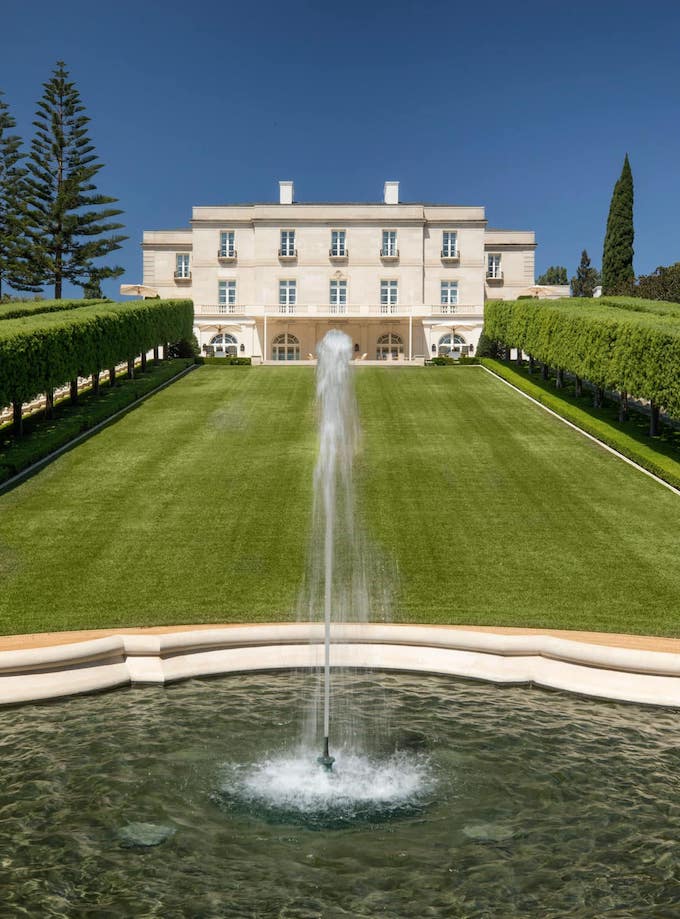 11 BEDS | 18 BATHS | SQFT: N/A | LOT SIZE: 6.49 ACRES | BUILT IN 1935
The Bel-Air estate, "Chartwell" belongs to the late Univision billionaire, A Jerrold Perenchio. It's currently the most expensive home for sale in the US. It is one of the eight homes publicly listed for $100 million or more in Los Angeles. The magnificent estate offers stunning, panoramic views from Downtown Los Angeles to the Pacific Ocean.
The home sits on 10.39 acres in the most exclusive part of Bel-Air. The main residence was originally designed by Sumner Spaulding in 1930 with a timelessly elegant exterior of symmetrical cut limestone in the French Neoclassical style. The interior of the home was renovated in the late 1980s by Henri Samuel, one of the most important designers of the 20th century. There is a 5 bedroom guest house designed by Wallace Neff, 75 foot pool with a pool house, tennis court, car gallery for 40 cars, 12,000 bottle wine cellar and perfectly manicured gardens that remind you of a chateau in France.

2 . Villa Firenze - $165,000,000
67 Beverly Park Ct, Beverly Hills, CA 90210
20 BEDS | 19 BATHS | SQFT: 28,660 | LOT SIZE: 9.87 ACRES | BUILT IN 1998
Authentic Italian village encompassing the largest assemblage in Beverly Park. Beverly Park is the most expensive and exclusive gated community and is home to some of the wealthiest and famous people in the world. On over nine acres, accessed by its own street, this one-of-a-kind property took over seven years to create. Expansive gates open to a 30 car courtyard surrounded by 40 foot tall Canary Island palms and a setting worthy of the best Italian palazzo.
Located in the more-desirable North section of the community, the estate towers above its neighbors and has views of the surrounding mountains. Built by LA-based mega-mansion specialist William Hablinski, a guy who designed several of the largest estates in Beverly Park, the compound was meant to invoke a traditional Italian village. There's a 20,000-square-foot main residence, a 5,000-square-foot guest house, a pool house, and one or two other guest houses for a total living space of 28,660-square-feet.
3 . 'THE MANOR' - $160,000,000
594 S Mapleton Dr, Los Angeles, CA 90024
14 BEDS | 19.5 BATHS | SQFT: 56,000 | LOT SIZE: 4.6 ACRES | BUILT IN 1990
The Manor is one of the largest and grandest private residences in LA. Originally built by entertainment royalty Aaron & Candy Spelling, it is now owned by Petra Ecclestone, daughter of Formula One billionaire Bernie Ecclestone. She bought it from Candy Spelling, the wife of late TV legend Aaron Spelling, for $85 million in an all-cash deal eight years ago. It has 123 rooms and a parking lot that can accommodate 100 vehicles.
Bordering the renowned LA Country Club and shielded behind gates and hedges, a winding drive leads to a circular motor court with space for 100 cars. A magnificent entry with 30-foot ceilings and a grand double staircase leads to breathtaking living spaces, including a stunning solarium, formal & informal dining, library, family room, state-of-the-art theatre, chef's kitchen, billiards room, bowling alley, gym, wine cellar and beauty salon. Extraordinary grounds include a resort-caliber pool and spa, championship tennis court, vast lawns and beautiful formal gardens. Moments from downtown Beverly Hills, Rodeo Drive and The Beverly Hills Hotel.
It was originally put on the market for $200M, with a price reduction to $175M and now $160M (as of June 2019).

4 . 'BILLIONAIRE' - $150,000,000
924 Bel Air Rd, Los Angeles, CA 90077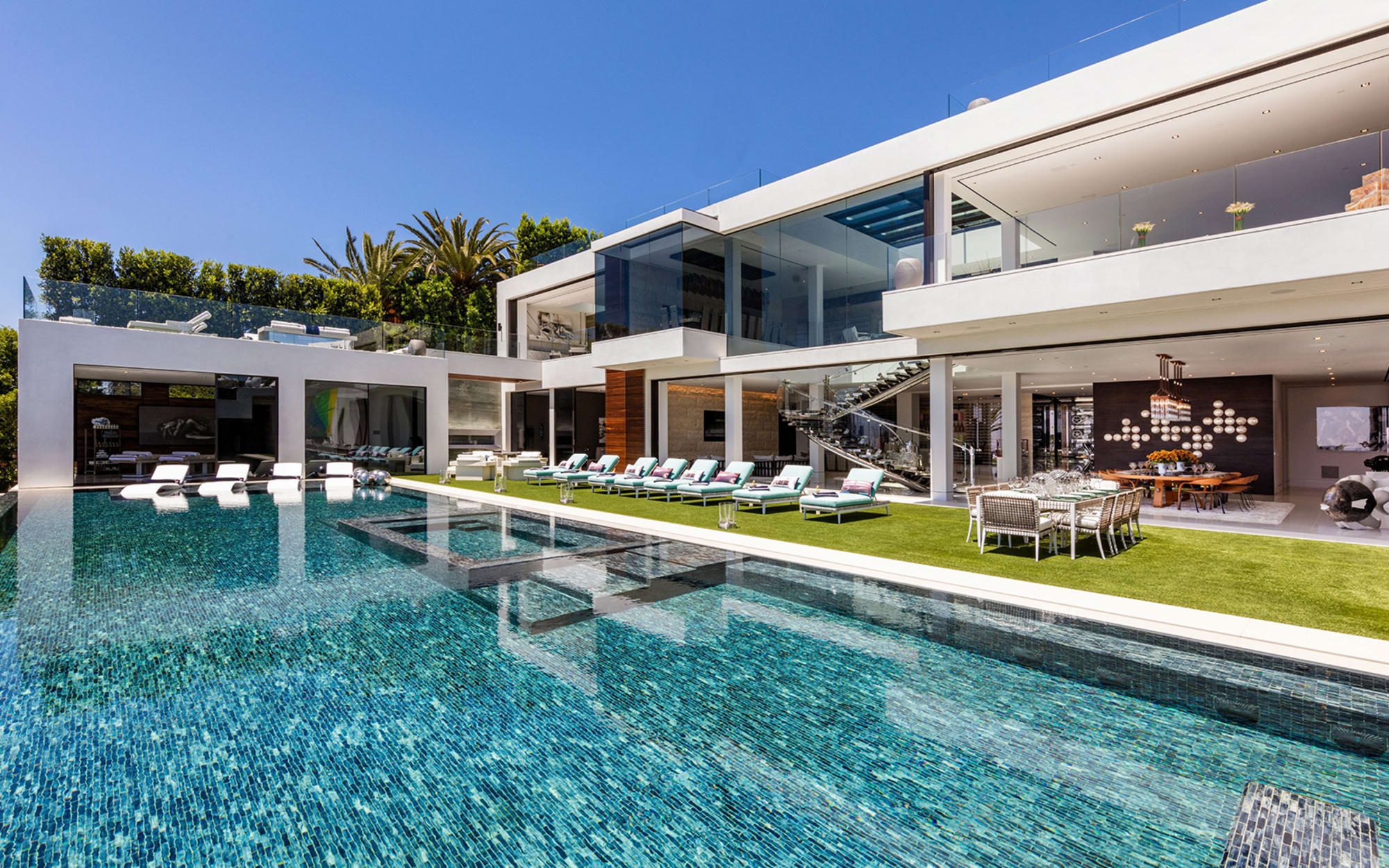 12 BEDS | 21 BATHS | SQFT: 38,000 | LOT SIZE: 1.08 ACRES | BUILT IN 2016
'Billionaire' is located in the most exclusive and expensive neighborhood of Holmby Hills in Bel-Air. It was originally put on the market in January 2017 for a whopping $250,000,000, which was at the time the most expensive house listed in the United States. The house has never been sold and is now priced at a measly $150,000,000.
The home consists of two master suites and 10 VIP oversized guest suites. The interior contains 21 bathrooms adorned with 50 types of marble imported from Italy, five bars, three gourmet kitchens, three dining areas, a fitness center, wellness spa, bowling alley, $12,000 glass pool table, 360-inch TV and countless other luxuries you never knew you even needed! The residence also comes with several 'perks,' including a collection of luxury cars worth over $30 million, as well as valuable sculptures and artwork.

5 . 'WALLINGFORD ESTATE' - $135,000,000
2571 Wallingford Dr, Beverly Hills, CA 90210
17 BEDS | 30 BATHS | SQFT: 43,000 | LOT SIZE: 6.1 ACRES
The newly remodeled behemoth, which is being sold fully furnished, features a 31,000-square-foot main house with seven bedrooms, including four family suites on the second level, two service suites in the basement level, and a 5,300-square-foot master suite. The estate has a 2,500 sqft. covered and heated patio, a cinema, a wine room, and a whisky lounge. It also has a spa with a hair and nail salon, a sauna, a massage room, and a stylist area. Other buildings on the double-gated property include a 5,000-square-foot guest penthouse with two master suites and a dedicated elevator; an 800-square-foot cabana with an outdoor kitchen and bath; a two-bedroom guardhouse; and a one-bedroom caretaker's home. In total, the compound has 12 bedrooms, 24 baths, 15 fireplaces, and two fire pits and offers approximately 46,000 square feet of living space.
The French-style residence—originally modeled on Le Petit Trianon, Marie Antoinette's private château—was last listed in 2015 for $37.5 million by its previous owner, Korean businesswoman Jeoung Lee. Its current proprietor, real estate mogul Gala Asher, purchased the freehold from a trust controlled by the healthcare entrepreneur for $22 million in November 2016 with the express purpose of updating and reselling it. The high-profile developer, who has never resided at the property, commissioned the construction of its outbuildings and master suite and transformed its previously baroque interior to reflect a more contemporary look infused with traditional touches. High-tech additions include home automation, state-of-the-art lighting and entertainment systems, a backup generator, and an advanced security system with 50 night-vision HD cameras.
6 . 'PALAZZO DI AMORE' - $129,000,000
9505 Lania Lane, Beverly Hills, CA 90210
12 BEDS | 23 BATHS | SQFT: 53,000 | LOT SIZE: 25 ACRES | BUILT IN 2002
At the end of a quarter mile private driveway sits a mansion named Palazzo di Amore. In 2007, billionaire real estate investor Jeff Greene paid $35 million for a shell (aka unfinished structure) constructed by prolific mega-mansion developer Mohamed Hadid. Greene then spent another $25 million to turn the blank-slate project into his dream home. The home was originally asking $195,000,000 back in 2014 and has dropped to $129,000,000 over the course of 5 years.
The 53,000 square foot compound comes complete with a 35,000 square foot main house, a guesthouse, private drivers' quarters, 12 bedrooms, 23 bathrooms, a reflecting pool and fountain, a swimming pool, a tennis court, formal gardens, two wine cellars, a 15,000 square foot entertainment complex with revolving dance floor and DJ booth, a 50-seat state-of-the-art movie theater, a bowling alley, and a game room. Since the home can accommodate 250 guests for a relatively intimate dinner or host 1000 guests for larger events the garage was built to hold 27 cars with on-site parking for 150 cars.
7 . '27600 Pacific Coast Hwy' - $125,000,000
27600 Pacific Coast Highway, Malibu, CA 90265
6 BEDS | 8 BATHS | SQFT: 13,693 | LOT SIZE: 3.07 ACRES
One of the greatest oceanfront bluff estates in the World. Situated on over 3 park-like acres in the most exclusive area in Malibu with a private pathway to one of the most beautiful beaches anywhere. Featuring a stunning contemporary home with high ceilings and walls of glass, designed by Charles Gwathmey. There is a spectacular living/great room overlooking shimmering ocean views, gorgeous lawns and large swimming pool. Incredible master suite with two-story paneled library and gallery, open gourmet kitchen/family room, professional state-of-the-art theater, gym, home office, beautiful guest/family suites and much more. Additional amenities include two guest houses, a championship N/S tennis court, spa house, and total privacy and seclusion.
NBC Universal vice chairman Ron Meyer has quietly listed his Malibu compound for $125 million. The Paradise Cove home sits on 3.1-acres, and has almost 14,000 sq. ft. of living space spread out over five bedrooms and six bathrooms. It's located on a private bluff with access to a secluded beach – there's also a pool and a tennis court, the website reported. Real estate agents told the Daily Mail that Meyer hasn't listed the home, but is entertaining bids privately. If Meyers is able to find a buyer to match his $125 million asking price, it'll beat the previous Los Angeles County record for priciest home sold, which was also in Malibu. Hotelier Peter Morton sold his oceanfront property in Malibu's Carbon Beach, better known as Billionaire's Beach, in April to natural gas billionaire Michael S. Smith and his wife, Iris Smith, for $110 million.
8 . 'THE OWLWOOD ESTATE' - $115,000,000
141 S Carolwood Dr, Los Angeles, CA 90024
9 BEDS | 10 BATHS | SQFT: 12,201 | LOT SIZE: 9.9 ACRES | BUILT IN 1936
Sited on approximately 10 acres in the heart of Holmby Hills, it is a world unto itself. Designed by renowned architect Robert D. Farquhar in 1936. The main house features extensive wood paneling, exceptional period detail and impressive scale. Grand public rooms include a baronial living room, oval sun room, library, and magnificent formal dining room. A Sweeping two story stair hall with soaring ceilings sets the tone for an opulent second floor complete with extensive master suite. Rich in history, Owlwood was once home to Tony Curtis and Sonny and Cher. Three lots combine to form one of the most important assemblages in Los Angeles. Verdant rolling lawns, full tennis court and Olympic size pool with pool house make it the ultimate compound. Truly World Class.

Which was your favorite home? Comment down below and share this!
Credits:
Alisa Peterson - Gaskill + Peterson

Emily Holland - Patch

Kristin Tablang - Forbes